Signing Ceremony of MUST Precision Optoelectronic System R&D Base Held in Jiangyin
2023-05-07
On May 7, 2023, the precision optoelectronic system research and development base of MUST, Tsinghua University, signed a contract in Jiangyin. Guo Yong, Vice Secretary of the Party Committee of Tsinghua University, Xu Feng, member of the Standing Committee of the Wuxi Municipal Committee and Secretary of the Jiangyin Municipal Committee, Zheng Yongping, Dean of the Wuxi Applied Technology Research Institute of Tsinghua University, Niu Ben, Director of Domestic Cooperation Office of Tsinghua University, Cai Zheng, MUST Project Manager and Associate Chair of the Department of Astronomy, Tsinghua University, Huang Lei, MUST Project Chief Engineer, and Assistant Dean of the Department of Precision Instruments, and Jiangyin municipal leaders Wu Liping, Chen Hanjie, Cao Xinghua, and Qi Jun attended the signing ceremony.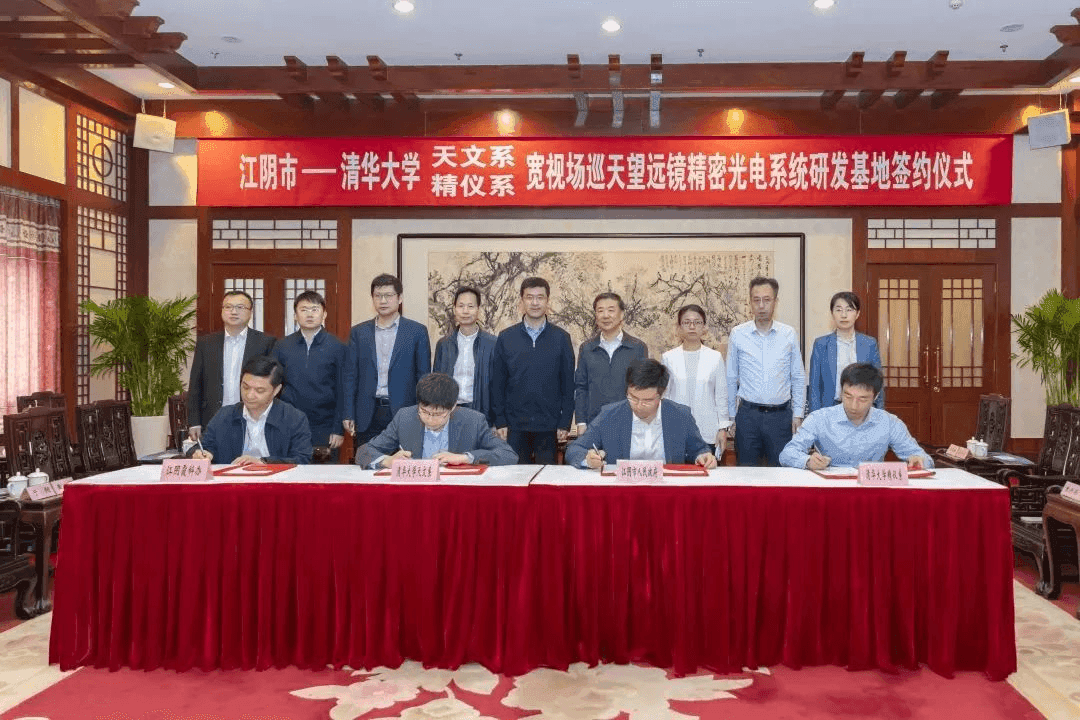 Xu Feng expressed a warm welcome to Guo Yong and his delegation. He said that Tsinghua University is a world-renowned institution of higher education with a long history and profound background, and has made outstanding contributions to the country's construction and development, social civilization, and progress. Jiangyin is the flag of county-level economic development in the country, and is currently accelerating the construction of "Science and Technology Innovation Jiangyin". The project will be settled in the Xiake Bay Science City, which is a high-quality development, high-quality growth pole, vibrant innovation source, beautiful ecological area, and digital new height, which Jiangyin key builds. Xu Feng stated that the Jiangyin Municipal Party Committee and the government will fully support the project's landing, provide all convenience for the project construction, and sincerely invite Tsinghua University to establish more cooperation with Jiangyin, and create a new highland of school and land cooperation and a new model of political and research cooperation.
Guo Yong stated that Jiangyin is blessed with both fine people and excellent geographical location, and the Jiangyin Municipal Party Committee and Government have left a deep impression on everyone by focusing on technological innovation to promote high-quality economic and social development. He pointed out that in 2021, Tsinghua University released the "Tsinghua University 2030 Innovation Action Plan", which focuses on optimizing disciplinary layout, strengthening disciplinary construction, intensifying basic research and tackling key core technologies, and prosperous development of humanities and social sciences. The Wide-Field Survey Telescope Project signed this time is an important part of it. Guo Yong hopes that both sides will continue to deepen and expand the breadth and depth of university-local cooperation, steadily promote the construction of large scientific facilities, and provide strategic support for serving the country's technological independence and self-improvement.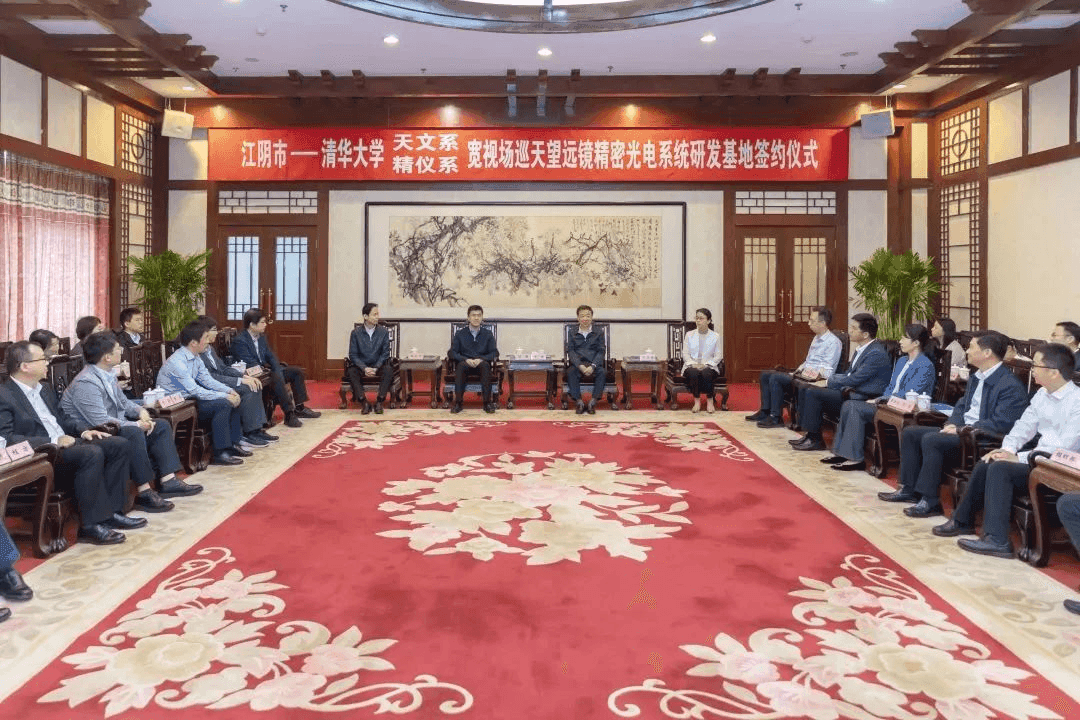 Deep space exploration is the "blue ocean" for breakthrough discoveries in the field of basic science. In the next decade, the development of deep space exploration will show further accelerated trends. However, in the extremely important fields of optics and infrared, the new generation of wide-field survey telescopes has yet to be completed internationally. In view of this, Tsinghua University has taken the lead in launching the important layout of constructing MUST, planning to build a large aperture, wide field of view, and high-efficiency spectral telescope. This facility belongs to the internationally leading large scientific installation, and is expected to achieve major fundamental and original breakthroughs in frontier directions such as dark energy evolution, nature of dark matter, and extrasolar planets, and obtain first-class international results.
The MUST team will rely on the Wuxi Applied Technology Research Institute of Tsinghua University to establish the "Precision Optoelectronic R&D Center." They will focus on topics such as base construction, technology research and development, and outcome transfer and transformation, closely related to the large-scale optoelectronic equipment construction of MUST. They will accelerate the gathering of talents in the aerospace technology and high-end optical equipment manufacturing fields, and create a world-class scientific frontier R&D platform and application base to foster a good environment for scientific and technological innovation.
Source: Wuxi Applied Technology Research Institute of Tsinghua University